Restaurant Booth Size Guide
Booths are a popular seating option with restaurant owners but more importantly with restaurant patrons. Most people given the option to choose between regular seating and booths will go for the booths. Their comfortable seating, pleasing aesthetics and allowance for more privacy they are an alluring addition to most if not all dining venues.
RESTAURANT BOOTHS TERMINOLOGY:
Before ordering booths for your restaurant it is recommended to get familiar with a few basic terms. You will need to know these when proceeding with your order:
Top & End Caps

 

–The caps are placed on the sides and top of a booth to cover the frame. Upholstered caps are standard but you can also upgrade to solid wood / laminate caps.
Head Roll

 

– An upholstered padded piece at the top of the booth which is used for extra comfort.
Logo Placement

 

– If you are looking to place a logo on your booth the central area of the padded back is where the logo will be placed.
Crumb Strip

 

– The crumbs strip is a 1.5" strip placed between the back of the booth and the seat, allowing for easy cleaning.
Welt Cord

 

– A durable and strong cord stitched to the sides of the seat for both strength and added style. When measuring the booths dimensions the height and length include the top and end caps.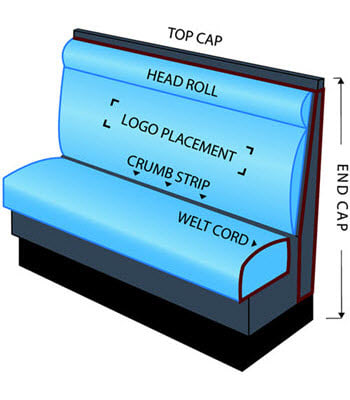 DINING BOOTH DIMENSIONS:
Most dining booths can be custom made to any dimension needed however the table below will show you the standard sizes for the most common dining booths:
TABLE HEIGHT
BAR HEIGHT
DESIGN
LENGTH
HEIGHT
DEPTH
DESIGN
LENGTH
HEIGHT
DEPTH
Deuce Single
30"
42"
24"
Deuce Single
30"
54"
24"
Deuce Double
30"
42"
49"
Deuce Double
30"
54"
49"
Single
48"
42"
24"
Single
48"
54"
24"
Double
48"
42"
24"
Double
48"
54"
49"

HOW TO CHOOSE A RESTAURANT BOOTH?
There are a few major factors that will influence your decision regarding which booths to choose. The top ones are the design of your venue and the type of customers you cater to. For example, for a family friendly restaurant the best choice is to go with vinyl padded booths. Vinyl is easy to clean and impervious to stains which are more likely to occur with children.
The amount of available space is also a factor that needs to be considered. Wall benches for example, are more than just comfortable, they also allow you to save space and to seat more clients in comfort. For big venues and popular ones that cater to large crowds, custom restaurant booths are the best choice. Half circle or even three quarters circle booths will allow you to sit large parties in comfort while enjoying relative privacy.
One major benefit of restaurant booths when compared to regular restaurant chairs and tables is not only the comfort but also the versatility they offer, with so many custom options available there is no décor they can't fit into. From wooden booths for a rustic look all the way to fully upholstered button tufted ones for upscale venues or ones printed with your logo that will look great in any sports bar, there is almost an endless array of designs you can get. You're only limited by your imagination and your budget and for a limited budget, quick ship booths are a great way to go.
HOW MANY BOOTHS DO I NEED?
This is one of the most common questions our experts encounter. The answer varies depending on the space available and the type of booths you want. When ordering your booths it is not enough to know the actual size of the booth, proper and adequate spacing also needs to be taken into consideration.
Below are a few guidelines and diagrams which will help you get a better idea of how the number of booths is calculated.
When placing two booths that are facing each other, the minimal spacing between booths from one end of a booth to the other should be 66" allowing for a booth table that's 24" wide. The wider the table the more space between the booths will be required – as seen in the diagram.

Once you have established the layout and number of booths you require, we recommend going over to our guide on the architecture of restaurant booths to find the right booth style for your restaurant.