Restaurant Furniture Design By Venue Type
DISTINGUISHING BETWEEN VARIOUS RESTAURANT CATEGORIZATION FACTORS
A variety of elements differentiate one type of restaurant from another. The broadest and most common factors people use to categorize styles of service in restaurants are:
Spectrum of Formality: Layout, restaurant furniture, décor along with the attire in which guests are expected to wear, determines whether a restaurant is casual or upscale. Counter service versus table service as well as the attentiveness and efficiency of wait staff are also strong indicators.
Price: Restaurants fall under a price range of affordable to expensive. You may notice that Google and other online search engines use dollar signs to denote the average price of a meal served to provide a convenient way to look at prices. (i.e. $ = inexpensive, $$ = moderately priced, $$$ = pricey, $$$$ = very expensive).
Food/Menu: Furthermore, restaurants differ from each dining establishment's presentation, quality and type of food they serve. Menus can be based on the theme of the restaurant or on a cuisine from a certain region. Sometimes, they exclusively feature innovations from the chef. At other restaurants, menus are devised on specific items as they are at pizzerias and steakhouses. Or according to specific dietary preferences, menus may feature as plant-based dishes.
Common categorization factors differ restaurants from one another. So does each one's unique brand, types of food service styles and restaurant furniture.
| VENUE | FURNITURE |
| --- | --- |
| Fast Food | Metal chairs, reversible tables, Industrial style furniture |
| Family Friendly | Dining booths, laminate tables, resin tables, metal chairs with vinyl seats |
| Fine Dining | Solid wood tables, solid wood chairs with padding, wood arm chairs, wood bar stools, button tuft booths |
| Steakhouse | Wood chairs, wood tables, wall benches and booths |
| Banquet / Event Halls | Stacking chairs, banquet chairs, Chiavari chairs, folding tables, wood tables |
GUIDELINES FOR RESTAURANT LAYOUTS - CASUAL VS. UPSCALE
Your restaurant layout is also important for operational flow. This refers to all the foot traffic in your restaurant, including where deliveries are picked up, how chefs move around the kitchen area, where servers pick up orders, and more. The right seating layout, bar and kitchen locations have a massive impact on both your employee and guest experiences — as well as your restaurant's efficiency and profitability. For guests: You want to provide a layout that is welcoming and aesthetically pleasing for their dining experience. For employees: You want to maximize efficiency, removing any obstacles to their ability to do their jobs easily and quickly.
Casual Dining Layout Tips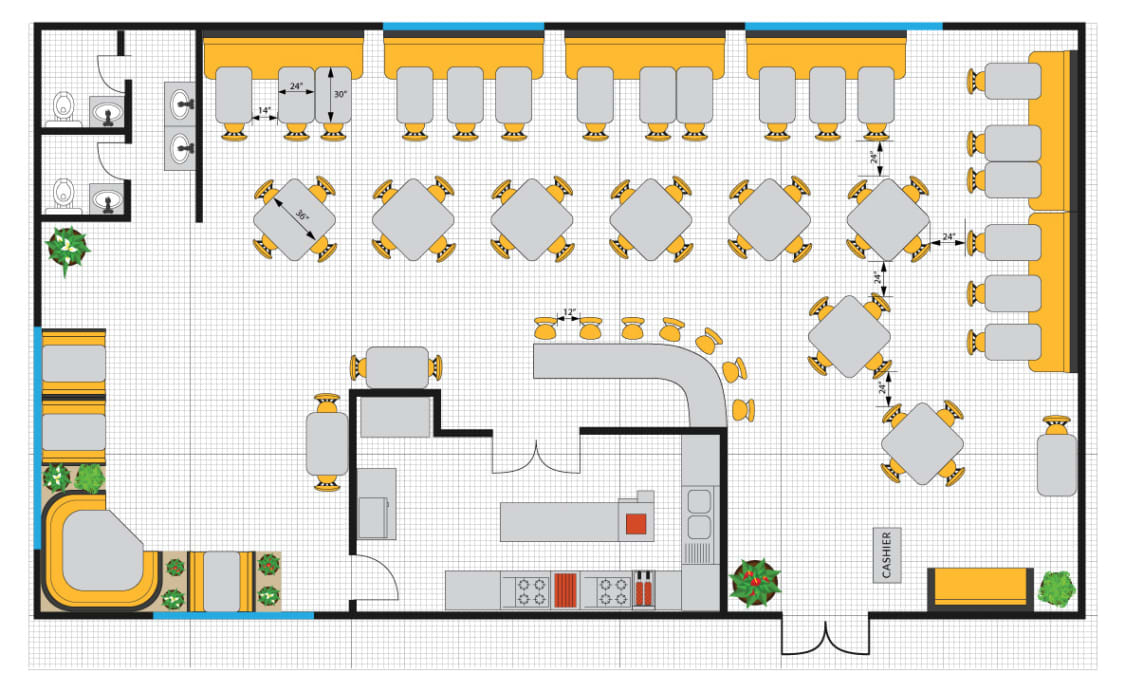 When planning the dining area of a restaurant, issues of flexibility should be considered in order to adapt to unexpected demands. This is especially true with casual restaurants. Local code requirements could determine how much square footage you need per customer, as well as aisle width. Casual dining establishments such as cafes, family restaurants and quick service restaurants don't need to have as much space between tables and chairs than upscale restaurants. Venues like this tend to have high traffic so plenty of space to enjoy a long comfortable meal in a quiet atmosphere is not so important since most people that frequent these establishments are looking for a quick meal. These establishments should still have an efficient floor plan and can properly direct this foot traffic to prevent bottlenecks or overcrowding.
Due to the high traffic in fast casual and quick service restaurants, quality durable seating and tables are necessary. Metal chairs and bolt down chairs are popular choices for these venues since they are strong and last a long time. Metal chairs are also more stain and scratch resistant. Since guests are seated for a shorter period of time luxurious padded chairs are not so important. Stackable chairs are also a smart choice since they can be easily stored to adjust to changing seating needs. Laminate, resin and metal tables are also popular with these restaurants since they are more durable and stain resistant. To comply with most safety requirements the minimum for space between occupied chairs is 18".
Upscale Dining Layout Tips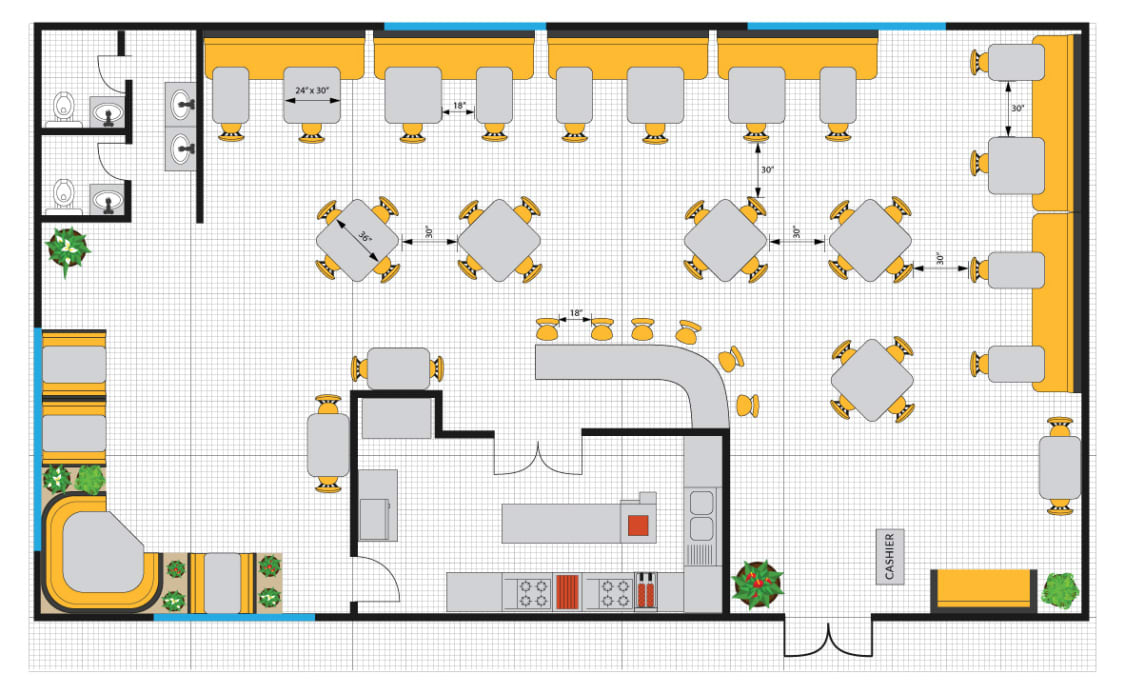 Effective seating layouts differ by venue type. The floor plan for a fine dining restaurant or bistro should look different from a casual restaurant or cafe. Upscale restaurants should have more space between tables so guests can have a more pleasant dining experience with less noise. There should be a minimum of 25" space between the chair back from the nearest chair back in the dining area. The standard table width for centrally placed tables is 36" x 36" for square tables or 36" diameter for round ones.
Booths and wall benches are a popular choice for fine dining establishments since they have a more refined look. Booths are also a great way to maximize floor space. The space between tables for a half booth should be 30" between tables. Tables for half booths can be rectangular or square and are typically 30" in length from the booth to the chair. Upscale establishments typically have solid wood tables and chairs or upholstered chairs to provide a premium dining experience. Since ambience is more important in fine dining restaurants, tables will often have table cloths and the decor will be fancier.
RESTAURANT DESIGN BY TYPE
The interior design of your restaurant will depend on which type of food service and venue you want to establish. There are many different types of eateries, such as quick service, fast casual, fine dining, family restaurants, diners, steak houses and more. In addition there are also many ethnic restaurants that can range from anything from fast food to fine dining. Each venue type has its own unique interior design and there are a variety of ways to enhance that and build upon the theme with the right restaurant furniture. Other factors that will influence your restaurant type and design are personal preferences, the type of patrons you want to attract and the location, such as will it be in a downtown, urban setting or in the suburbs where outdoor seating is available.